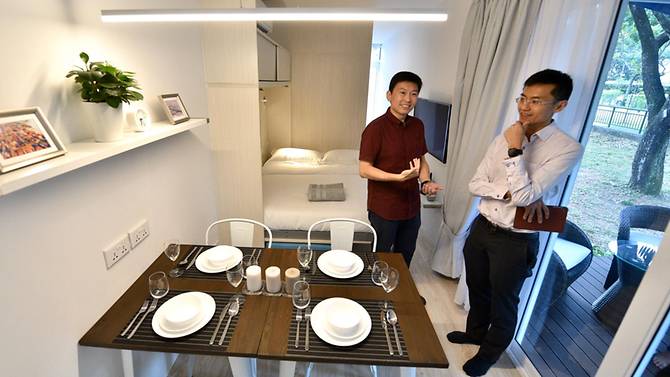 Two years ago, Mr Seah Liang Chiang thought of building his own tiny house in Johor. On Friday (Jan 17), that DIY weekend retreat project turned into a business.
Mr Seah has launched Singapore's first hotel made using shipping containers. For S$150 to S$200 a night – depending on whether it is peak or off-season – up to four guests can stay in one of two cabins in one-north. Mr Seah said he based the price off what other hotels around the area were charging.
Each 300 sq ft air-conditioned room has two queen-size beds, a study table, living and dining space, kitchen and bathroom. The cabins are standalone, with none of the typical hotel facilities such as a swimming pool or a lobby available.
Instead, guests of the Singapore Shipping Container Hotel will have access to a 24-hour customer service hotline manned by Mr Seah or his wife. The rooms will also be cleaned after each stay.
Source: Rachel Phue – Channel News Asia